Successful reunion and official meeting and training session with
Sensei Falah Kanani met with Shirai Sensei in his ITKF Europe office. They discussed AAKF and ITKF status and traditional shotokan karate in general. There will be a future collaboration with Shirai Sensei's organization WSI on a personal level as well. The future of karate looks bright with such a great karate master still very active and interested in the propagation of Shotokan Karate. It was an honor for Sensei Kanani to meet and be invited to a personal training session with Shirai Sensei and his top students in his private dojo.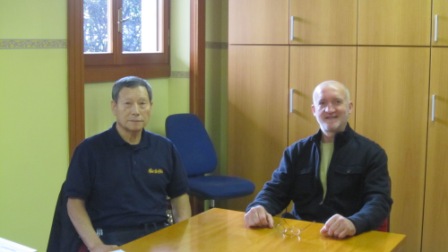 Europe - Austria's Karate Seminars
with Sensei Falah Kanani
Austria / Salzburg ( Saalfelden, Mittersill )
March 22 and 23rd, 2012
Sensei Falah Kanani was invited by Sensei Ivo Vukovic to conduct two traditional Karate Seminars in Austria, Salzburg in the City of Saalfelden and Mittersill. Sensei Kanani was asked to cover all basics and kata and kumite in detail for beginners and advanced levels.The instructor and the students enjoyed the details of Sensei's instructions and asked Sensei to return to Austria as soon as possible for further instructions and collaboration. Sensei Kanani was assisted by the AAKF North Atlantic Regional director Sensei Helene Ely on this trip she also translated his intructions.