F. Kanani and M. Tanaka Senseis Reunion40th Anniversary of M. Tanaka Sensei visiting and instructing in Denmark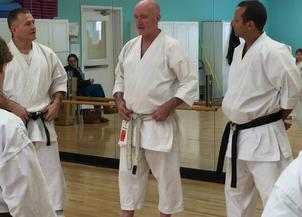 2015 New York ATKF International Summer Camp in Shelter Island, New York
2015 ATKF Nationals / Goodwill Tournament
JKA Hamptons New York / JKA San Diego International and Chief Instructor Falah Kanani are hosting this years 2015 New York ATKF International Summer Camp. The camp will be held at Camp Quinipet in the beautiful Hamptons / Shelter Island, New York.
This year's camp is open to all traditional karate styles and all ages. You all are cordially invited to join us in this four day camp of true traditional karate as taught by the Sensei of the Sensei's of all the Shotokan World: H. Nishiyama Sensei. The lead instructor of the camp will be the world renowned instructor, Sensei F. Kanani, a lifetime student of Nishiyama Sensei and a world-class international instructor. Furthermore we will have a fantastic team of guest instructors such as Sensei Antonio Walger from Brazil, Bejar Fuzliu from Kosovo / Philadelphia and JKA San Diego's Head Instructor Sensei Sidney Dobbin from Brazil. The camp will be held Friday August 28th to Monday August 31st, 2015 with our ATKF Nationals / Goodwill International Tournament. The camp fees are $ 399 for 4 days, 3 nights including all seminars, camp accommodation (beds) and meals. You will need your own transportation such as flight, airport pick up and ferry rides. The tournament fee will be $ 50 per event.
Lead Intructor
Falah Kanani, 6th Dan, USA
Guest Instructors
Antonio Walger, 6th Dan, Brazil
Bejar Fuzliu, 6th Dan, Kosovo / USA
Sidney Dobbin, 4th Dan, Brazil
Contact and more information: ( camp schedule and training topics ) www.atkfinc.org
No affiliations to any organization are needed just the interest in continuing and studying the true way of Nishiyama Senseis traditional karate teachings. Kumite, kata and basic training as he taught it. Don't miss this opportunity to train on the beautiful Shelter Island in the world famous Hamptons, New York. The deadline for the registration will be June 30th, 2015.