Sensei Kanani 6th Dan Chief Instructor
Having more than forty years of karate experience and being a direct student of Hidetaka Nishiyama, the co-founder of JKA and chairman of I.T.K.F., Sensei Falah Kanani is the chief instructor of the Japan Karate Association of San Diego and AAKF technical board member. As a 6th Dan (degree) black belt, Sensei Kanani is an internationally respected competitor and a certified Instructor with the J.K.A., A.A.K.F. and I.T.K.F. He brings to San Diego his past and present competitive background as a National and International competitor. Falah Kanani was born in Mosul, Iraq and was raised in Baghdad, Iraq. At the age of thirteen, Sensei Kanani began his karate training with Sensei Hideki Okamoto, the chief JKA instructor of the entire Middle Eastern region. At this very young age, Sensei Kanani took on a growing interest in martial arts.One of the first books Sensei Kanani read was one by Gichin Funakoshi who is known today as the father of modern karate. Funakoshi was the first to introduce the Okinawa art to mainland Japan. Sensei Kanani was greatly inspired and motivated by Funakoshi's discipline, expertise and style.In 1976 Sensei Kanani was selected to become an active member of the Iraqi National Team, as he was one of the first of four students in Iraq to achieve his black belt. He became an admirable student to Tiras Odisho, the Iraqi National Team coach, for his talent, discipline and advanced skill. As a result of Sensei Kanani's superb knowledge and abilities, he was chosen to become Mr. Odisho's assistant. Additionally, he began assisting and teaching at the local universities and other public associations. In 1979, Falah represented the Iraqi National team in it's first International competition against Lebanon and Palestine. According to Iraq's Sport National Newspaper Falah was the only outstanding competitor. Then, in early 1980, the all Japan and JKA Champion, Masashi Sakata, prepared Kanani to represent the Iraqi National Team at the World Championship that took place in Bremen, Germany.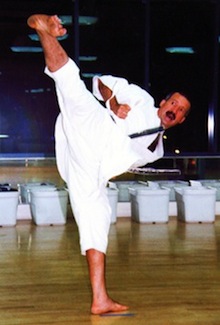 From late 1980 to 1982.
before coming to the United States, Kanani spent two years in Jordan where he owned and operated his first Dojo. The teaching of martial arts in Jordan was limited only to a specific purpose such as for law enforcement and military purposes. Not only did Sensei Kanani instruct the Jordanian Special Police Units and Army Forces under the command of Prince Hassan of Jordan and President of the Jordanian Martial Arts Organization, but he was also recognized for his impressive skill and fervent training ability.Kanani was the very first instructor to establishShotokan in Jordan and was also the first instructor in that country permitted to teach openly to the public.
After leaving Jordan in 1982, Kanani taught for one year in Athens, Greece, and in 1983 he continued on to the U.S. where he took up training in Los Angeles, California with one of Karate's most famous living legends, SenseiHidetakaNishiyama, the (JKA) and Shotokan Highest, with whom Sensei FalahKanani has chosen to further his studies for the rest of his life. After two years of intense training with Nishiyama, Kanani earned a spot on the Elite USA National Karate Team for which he has been an eighteen-year member. SenseiKanani received his 1st degree black belt from Sensei Okamoto and his 2nd, 3rd, 4th, 5th, and 6th degree from Sensei Nishiyama.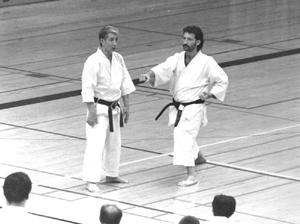 Sensei Falah Kanani
had taught individual national and international champtions as well as international karate teams. It started back home in Iraq by being an assistent coach for the Iraqi national team. His coaching continued in the US where he helped to produce some of the top competitiors to represent the US world wide. Sensei Kanani was also sought out by European champions such as Roma Lafayette. Lafayette trained regulary under Sensei Nishiyama in LA but preferred to visit, train, learn and share in Sensei Kanani's dojo in San Diego; the polish national, european and world champions made also sure to train with Sensei Falah Kanani in San Diego as part of their regular visits to the US. Sensei also trained them during his visits in Poland. Recognized by the Brazillians for his outstanding abilities and background in karate, Falah was invited to Brazil by the Brazilian Federation and head coach, Kazo Nagamine, to give seminars to National Brazilian Team Members. Kanani accepted the invitation as he, coincidentally, was heading for Brazil to compete at the 1996 World Championship. Many Brazilian team members were very impressed with Sensei Kanani's proficient skills, and in 1997 several Brazilian Champions attended Sensei Kanani's dojo in San Diego to prepare and train for upcoming championships.
One of Kanani's highest competition accomplishments list was representing the U.S. National team at the 8th ITKF 1996 World Karate Championship in Brazil. He was a third placemedallist in team kumite. In addition to being a member of the U.S. National Team since the mid-1980's, he was selected many times to represent the U.S. in individual kumite at the International Summer Camp in San Diego.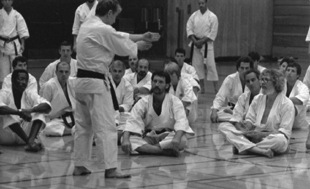 Sensei Falah Kanani trained
with several world famous JKA masters. His performance and proficiency in karate is the result of his many years of training with some of the best and diverse world masters. Some of the Masters Kanani developed from and trained with includes Hideki Okamoto, Masashi Sakata, Masao Kawazoe, Masaaki Ueki, TakeshiOishi's, Hiroshi Shirai, Keinosuke Enoeda, Masatoshi Nakayama and Hidetaka Nishiyama.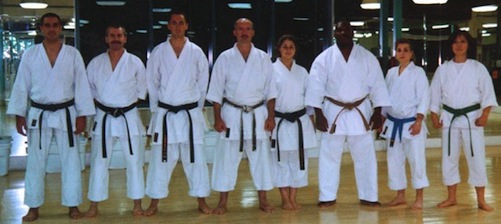 From 1991 to present day.
Sensei Kanani is the Chief instructor of the Japan Karate Association of San Diego and is a certified international coach and referee. With over 30 years of karate experience, SenseiKanani has extended his knowledge and skills to his own students who he has developed and inspired over his many years of teaching.